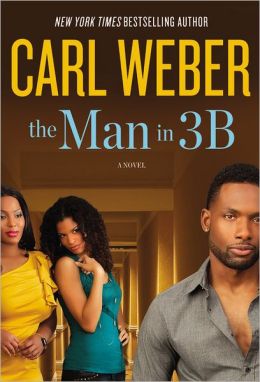 Carl Weber fans who have enjoyed his past novels will enjoy his latest book,
The Man in 3B
.
Neighbors in a apartment building in Jamaica Queens are up in arms about their new neighbor, Darryl Graham. He's down to earth, has a lot of swag and is easy on the eyes. He winds up getting entangled in some of his neighbor's lives and has a few secrets of his own.
Unlike some of his previous novels, Weber tells Darryl's story from the viewpoint of five of his neighbors. They are:
Connie, an overweight and unhappy wife who takes comfort in Darryl's attention.
Avery, Connie's husband who is unhappy in his marriage and his finances. When an opportunity arises to make money, he will let nothing stand in his way.
Krystal, who is Darryl's first love, has a new man in her life. But she wants Darryl too. Deciding on which man she wants turns out to be the least of her problems.
Benny, a young college student that Darryl takes under his wing. This relationship turns Benny's world upside down.
And Nancy, the building gossip queen, who also has her eyes on Darryl. Did I say that she's married and has a boyfriend on the side?
But all five of them are brought together even more when someone dies in their building and they all become suspects in a murder.
Like several of Weber's other books, The Man in 3B has drama, surprises and an ending that you won't forget. And I LOVED the ending of this book. I rooted for several of the characters in this book (and others I wanted them to kick rocks). It's an enjoyable read and it's recommended for long time fans and those who are reading Weber's works for the first time.
There is good news for those who would like to see Weber in person. He will be touring in support of this book and he's coming to my home state!
Carl Weber is returning to South Carolina this weekend and will be appearing at three
Books-A-Million
stores. On Friday (February 1), he will be at the Northwoods Mall location in North Charleston at 7 p.m. This is the signing I will be attending. On Saturday (February 2), Carl will be at the Sumter store at noon and the Sandhills store (in Columbia) at 5 p.m. See
Weber's tour schedule
to see if he is coming to a city near you!
Here is when he came to North Charleston in support of The Choir Director two years ago.
Happy Reading!
Disclaimer: I received an advanced copy of this book from
Grand Central Publishing
and
Netgallery
. Opinions are my own.